Militariauctions.com – Military memorabilies from World War 2
"History is like a spirit knocking on a wall …"
GAO XINGJIANG / LA MONTAGNE DE L'ÂME
Militaria Auction wants to be the source of your passions !
Quality objects that illuminate history, a close and enthusiastic team, a real dynamic for your purchases and sales, an international clientele.
Join us now !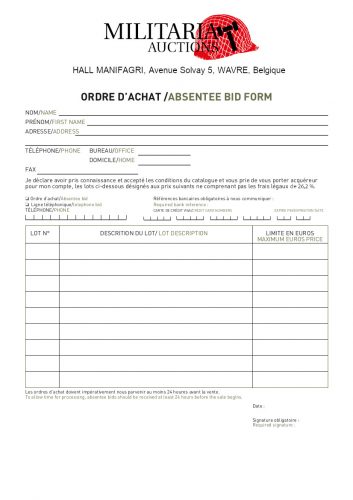 Download here the Absentee Bid Form
Connect to our partner Live Auctioneers and navigate to the corresponding catalogue so you can fill in your bid form.
Or see you on Live Auctioneers on the day of the auction in order to join us and participate live !
---
Some photos of our next auction
Stay tuned for the next auction dates
To be informed of the next auction session, please join our mailing list.
Militaria Auctions was founded in 2013 by Xavier Aiolfi. A man eager to develop the dynamic market of historical and military souvenirs in Belgium. A few sales after its creation, the company was taken over by the RégiArm press group, which owns the famous titles "Uniformes" and "Gazette des Armes".
In 2021, two young French actors of the Militaria world, Emilie Weyl and Adrien Stéphan, decided to start the adventure of recreating an auction room dedicated exclusively to the theme that is dear to them in Belgium.